After over 500 issues of helping you to get the best out of the web and your PC, Web User is saying farewell. Issue 516 (out in December) will be the last issue available to buy - and, once again, it will be packed with the best software, new apps and expert tips we can find.
We would like to thank our loyal readers and valued subscribers for your support.
If you're still looking for a technology magazine then we really recommend our sister title, Computeractive. Find out more below!
Computeractive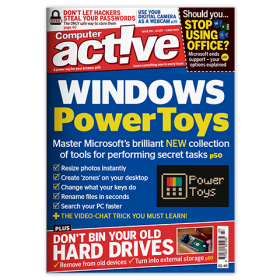 For over 20 years it has been the UK's best-selling fortnightly computing magazine, talking in plain English to give you help and advice on every aspect of computing. Much of what our readers love about Web User - free software, superb apps, secret tips, practical advice - you can find in Computeractive.
Computeractive covers a range of areas including avoiding scams, anti-virus software, broadband, how to protect your own data, consumer rights, and a whole lot more, offering you clear and concise advice to help you get the very best out of your computer.