Print Only
2 years, $139, you save 66%
1 year, $79, you save 61%
Monthly home delivery by first-class mail.
Print + Digital
2 years, $139, you save 66%
1 year, $79, you save 61%
12 monthly issues delivered by first-class mail, e-mail, and available online.
Digital Only
2 years, $139, you save 66%
1 year, $79, you save 61%
Monthly e-mail and online delivery for instant access on your favorite device. 
Risk-Free 100% Money-Back Guarantee.  If you are ever dissatisfied with your service, simply cancel at any time during your active subscription and request a 100% refund of the price you paid for your current subscription term.  Applicable sales tax will be added to all orders.  Regularly $204 including first-class postage for 12 monthly issues
What's inside Kiplinger's Investing for Income
Proven ways to boost your cash yield, safely and reliably,

 

in any kind of market.

4 Model Portfolios for different investing styles.

Highly lucrative, often overlooked investment alternatives for steady income with manageable risk.

Kiplinger 25 collection of top income-producing investments to show you exactly where to put your money now.

Reader questions answered in every issue.
See for yourself. Download a free issue.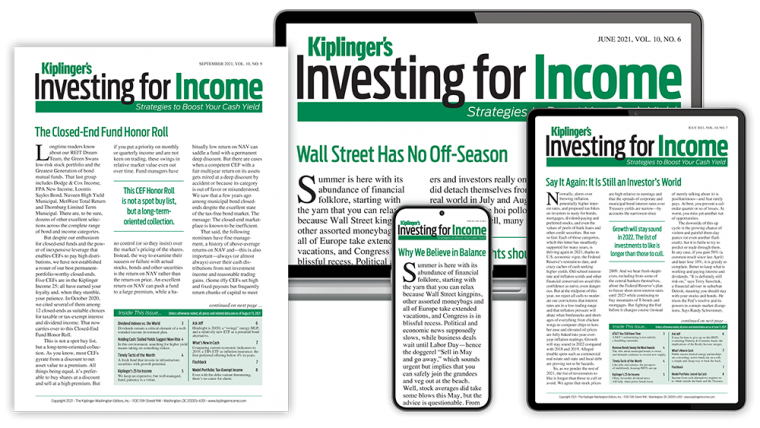 Why choose Kiplinger's Investing for Income
Trusted Kiplinger investing advice 
Steady income, manageable risk
4 model portfolios
No advertising 
100% money back guarantee