Print Only
2 years, $74.95, you save 37%
1 year, $39.95, you save 33%
Monthly home delivery 
Print + Digital
2 years, $74.95, you save 37%
1 year, $39.95, you save 33%
12 monthly issues delivered by mail and available online. 
Digital Only
2 years, $74.95, you save 37%
1 year, $39.95, you save 33%
Monthly e-mail notifications for instant access on your favorite device. 
Risk-Free 100% Money-Back Guarantee.  If you are ever dissatisfied with your service, simply cancel at any time during your active subscription and request a 100% refund of the price you paid for your current subscription term.  Applicable sales tax will be added to all orders.  Regularly $59.95 for 12 monthly issues.
What's inside Kiplinger's Retirement Report
Trustworthy guidance to build retirement wealth.

Strategies to safeguard your savings against taxes and inflation, so you never run out of money.

Expert advice on 401(k)s, IRAs, RMDs, rollovers, and more.

Proven ways to preserve and protect your estate.

Help to maximize Social Security and Medicare benefits.

How to get the best health care and insurance at the best price.
See for yourself. Download a free issue.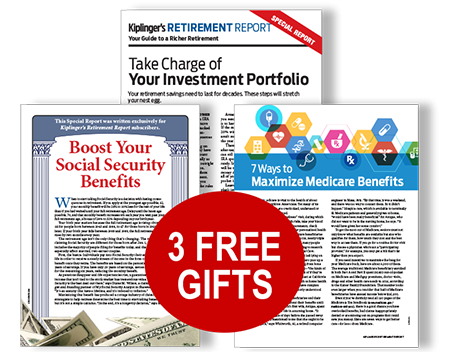 Why choose Kiplinger's Retirement Report
Trusted source of retirement advice

Proven ways to build and preserve wealth

Maximize social security and medicare benefits

Best healthcare and insurance options

100% money-back guarantee